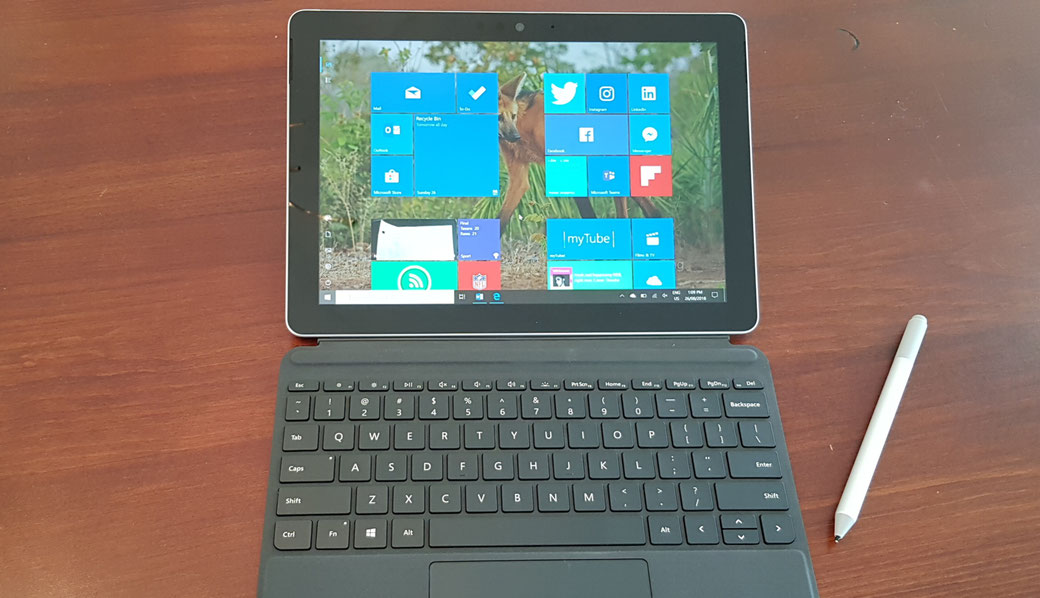 For the last three years, I have been lucky enough to have been awarded as a Microsoft Innovative Education Expert (otherwise known as a MIEE).
This means that I get to hear about Microsoft's latest education initiatives and give feedback to the company from a teacher's perspective. It is an incredibly valuable experience, one that is open to all educators.
So, when I heard about the release of the new Surface Go, I was very keen to find out more about the device, particularly how it could be used in an educational context.
Thankfully, Microsoft was generous enough to give me a demo Surface Go for seven days in order to get a feel for its capabilities.
As the end of my seven-day trial period approaches, I thought I would put together my thoughts for others who are interested, particular teachers, parents and students who are looking at a device for school.
Please be aware that this is not meant to be a full product review (providing things like battery life, system specs, etc.), as there have been many of those provided already.
This is just a teacher's experience of the device as an end user.
Unspoken Expectations
Before I had received the demonstration model, I think I had drawn certain conclusions. First of all, I knew that it didn't have the hardware that I was used to in my current daily computer: a Surface Pro 4.
Therefore, I think I assumed that it would struggle with my normal daily workload. Also, I knew that it had the rough screen size as an iPad, so I think I assumed that it would only be able to handle the same app demands.
However, I only became aware of my assumptions as I began using the device. Very quickly, I noticed that I was repeatedly pleasantly surprised by my experience.
It was at those moments that I started wondering why I was so surprised so often, and that is when I started realising what I had subconsciously assumed.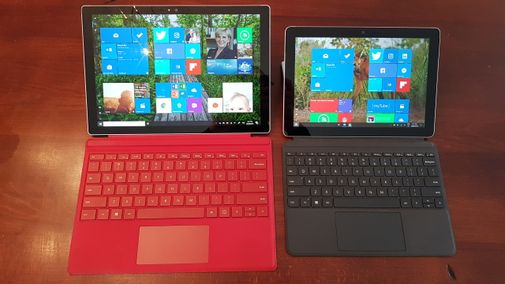 The Pocket Rocket
I have been so incredibly impressed with the power of this little device. Even though it is the size of an iPad, it can do infinitely more than Apple's device. Everything I do on a regular basis on my Surface Pro 4 I have been able to do without any noticeable lag.
It must be admitted that I didn't do anything particularly 'resource heavy'; I just did what my normal day job required: work processing, PowerPoint creation and presentation, video watching, replying to emails, etc. However, no matter what I did, the Surface Go didn't skip a beat.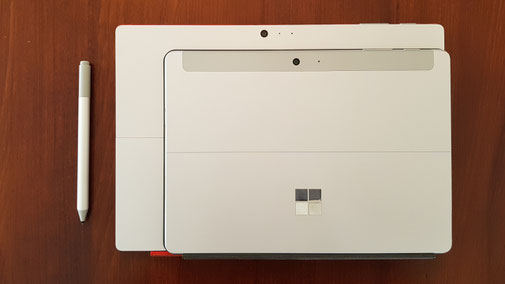 Surface Go Saves the Day
One of the best examples about how impressed I have become with the Surface Go happened when I least expected it. Recently, I was doing a series of presentations to teachers about the upcoming Cambridge University Press Ancient History textbook that I am a contributing author on, and my primary computer let me down unexpectedly. It must be said that the computer itself was not at fault, but a particular piece of software. An hour before I was due to deliver my last talk, my computer began to crash every few minutes. I hadn't prepared a contingency plan, but I had, by pure luck, brought the Surface Go with me in case I had some time to play around with it. I am very glad that I did because I would have been lost without it.
A Potential Limitation
The main limitation on the device, and what would prevent it from being my primary work computer, is its size. It is designed to be a portable device and, to this end, it is intentionally small. For an adult, the size of the keyboard starts to feel cramped after about five minutes of constant typing. Therefore, I couldn't make it my go-to device.
However, its size makes it perfect for travelling. Where I have found that my Surface Pro was too large for working comfortably on an airplane, or for carrying around between meetings, the Surface Go felt perfect.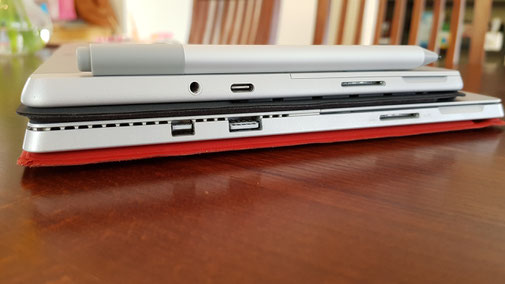 A Student Device?
In my opinion, this would make a perfect student device, especially for those ages where their hands would not find the size of the keyboard too small: ages 8-12, ideally. Beyond that, I think the size would become an issue.
My Recommendation
I think if a parent was deciding between a Chromebook, iPad or Surface Go for their student, I would unreservedly recommend the Surface Go. Both the iPad and Chromebooks come with built-in limitations: simply put, they're not full computers and there are natural sacrifices you make under those circumstances. The Surface Go is a full PC with the portability of a tablet. Therefore, the Surface Go does everything a laptop and tablet does, with all of the benefits of both form factors.
The Surface Go supports all of the arguments I made about Surface devices verses iPads in a previous blog post.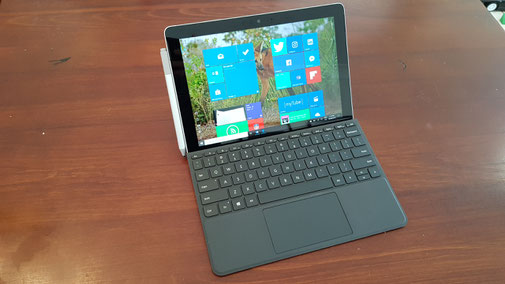 Conclusion
I cannot fully convey how far beyond impressed I am with this device. I am genuinely disappointed that I have to hand the device back at the end of my trial period. I think Microsoft has done a fantastic job with the Surface Go. I hope this information will prove useful and informative to parents and teachers who are exploring device options for their students.
Demo Device Specs
It must be stated that the model of Surface Go that was provided to me by Microsoft was the 'top end' model, with 8 GB of Ram. Furthermore, it had full Windows 10 unlocked (not S mode). Therefore, my experience is based upon these factors. As a result, I was able to see what the full capabilities of the device were.
---
As an Amazon Associate, History Skills earns from qualifying purchases